The Gucci A/W 2018 show
21:06
To sum it up in one word I would have to say the show was memorable. It was shocking and magical with an ere of mystery to it too. It was well planned and gorgeous and gory and just fascinating to watch, Gucci's creative director Alessandro Michele did an amazing job at making a show to put Gucci in history books.



The first glimpse I had of the show was on @diet_pradas Instagram story. It was a short video that featured a masked thing covered in expensive almost oriental looking designs and I was as shocked as I was fascinated. If it wasn't for the embellishments and subtle touches I never would have believed it was Gucci, it seemed way too out there for the brand to do as it completely turned it's back on the high elegance and sophisticated cuts that the brand normally display.
The thing that made the most headlines were the special effects and the catwalks design itself. It was set up in a Surgery room where the models walked past a surgery table and equipment. The accessories where a little different from the normal clutch bags and earnings, instead models held replicas of their own heads, chameleons and even dragons.
I saw so many references through the collection whether intentional or not, the cut of this jacket along with the dragon screamed Game of Thrones to me. The show has been so popular in the past few years and this seemed like a real nod to it. I even saw people on twitter see the image below as reference to Harry Potter, the model and head seems as if it is a progression of the Weasley family.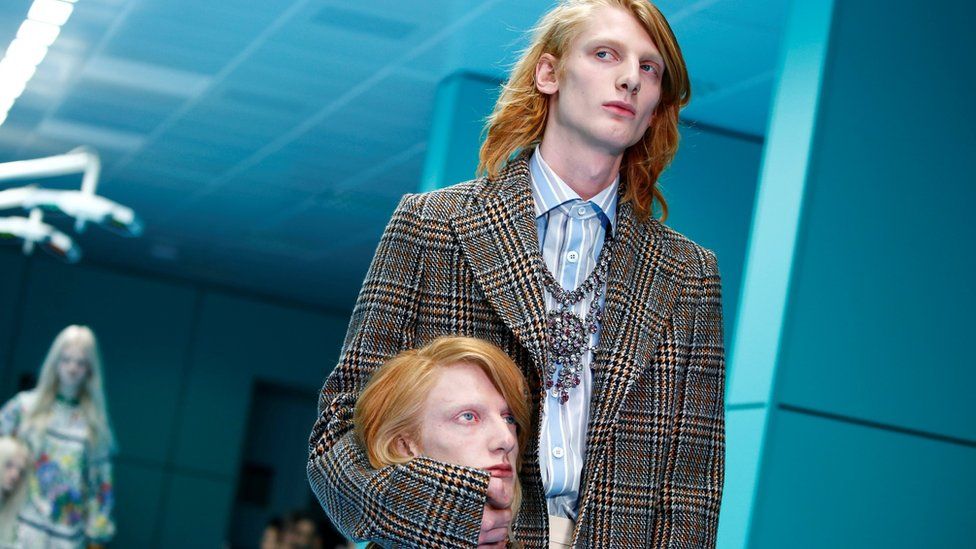 "Severed heads are SOOOOO next season!"
-Joshwa Saint James.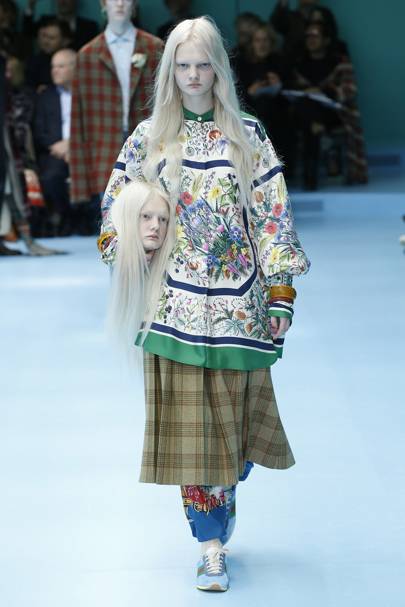 To see what the show looked like, you can view it on youtube below here.
https://www.youtube.com/watch?v=z7rWJoI3N3Q